Best RS6 Tuning Modifications
"Transform the already stunning RS6 into the ultimate track day car"
If you're seeking for the ultimate sleeper, you'd be foolish to overlook the Audi RS6.
Its monstrously strong 450 horsepower engine propels its enormous hefty body.
If weight reduction is not possible, Audi's credo seems to be "raise power to ridiculous levels."
Despite its size, the Audi Quattro traction control technology makes the vehicle seem far lighter than it is. When it comes to handling, it gives the impression of a smaller vehicle.
If the changes are done correctly, you should be able to reduce the already outstanding 0-60 time by around a second!
The huge wheels provide tremendous amounts of grip, and it would be stupid to attempt to push beyond the road's grip limitations.
So how can one enhance such a wonderful automobile? Suspension upgrades may improve handling at the price of a stiffer ride. However, if you do this correctly and adjust the camber and toe, you may really improve the turn in.
Our objective in tuning the RS6 engine should be to boost peak power and torque at the top end while maintaining the present car's smooth power distribution throughout the power band.
Keep the car looking normal and remove the badges to make it look like a normal car. Better yet, put on a TDi badge and have fun at the lights with the lights on.
Audi RS6 Tuning modifications.
The RS6's V8 engine is a twin turbocharged unit, and the turbos would benefit from being upgraded to bigger Garrett ones with ball bearings. Installing a fast road cam is one of the greatest mechanical modifications you can do.
When increasing the power, it's critical to pay attention to the fueling. Increased power necessitates increased fuel consumption. A fuel pressure regulator installed aftermarket will almost surely provide a snappier throttle response than the factory Audi regulator!
To ensure that your engine receives enough gasoline, you may need to upgrade the injectors. Increase the capacity of the fuel pump to accommodate the increased fuel needs of your tuned RS6's upgraded injectors.
Audi RS6 Intake and Exhaust Tuning.
Now we'll look at the intake and exhaust systems and guarantee appropriate engine flow. Purchase a complete stainless steel sports exhaust with a 2.5-inch bore and a high flow manifold, along with a sports catalyst, and you will notice a noticeable improvement in the engine's top end flow.
Induction kits work well with turbocharged engines and bigger engines (but must be used in conjunction with an appropriate cold air supply or air box). Sports exhausts balance the engine's airflow.
Gas flowing through the head enables you to get the most out of your air/fuel charge. However, this should be left to a professional equipped with a good flow bench and machine tools. Your clutch may significantly fail you if it begins to slide, and normal clutches are only capable of delivering power improvements of up to 30%.
RS6 Clutch Upgrades
Upgrade the clutch to a three plate clutch to prevent power loss in the gearbox. Turbocharged engines beg to be remapped, and the RS6 engine is no exception; a remap is required if you have performed other changes, but even a stock vehicle may benefit from a remap.
Expect to get between 40 and 70bhp with a remap alone and up to 100bhp with additional bolt-on items. There is no reason why this cannot be exceeded by a reasonable margin with some internal head work.
Audi RS6 Wheel modifications.
Alloy wheels aid in the cooling of the brakes and are often lighter than steel wheels. The disadvantage of big alloy wheels on an RS6 is that they affect the effective final drive ratio, which has a negative influence on acceleration and performance.
Although some have gone bigger, we would recommend staying within the 19-inch rim size as a maximum. While larger sizes improve handling, lowering to an 18 inch rim may be necessary if you really want the best handling and performance.
Now that you've increased the performance of your RS6, we strongly advise you to consider upgrading the brakes as well. 380mm vented discs should fit well under the front wheels, and some RS6 owners have installed brakes adapted from Porsches.
You simply cannot beat ceramic brakes, but their expensive cost deters the majority of people. Instead, choose for a larger disc and higher friction pads and callipers.
For more information on Tuning your car please join us in our friendly forum where you can discuss RS6 options in more detail with our RS6 owners. It would also be worth reading our unbiased Audi tuning articles to get a full grasp of the benefits and drawbacks of each modification.
Check out my YouTube channel, we're regularly adding new content...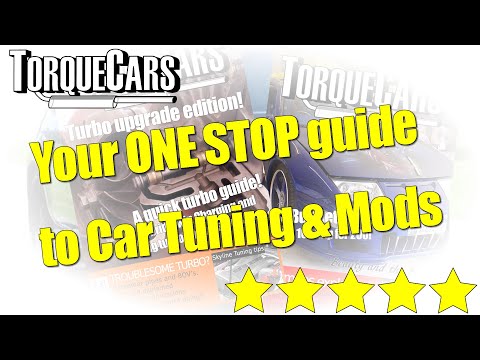 PLEASE HELP: I NEED YOUR DONATIONS TO COVER THE COSTS OF RUNNING THIS SITE AND KEEP IT RUNNING. I do not charge you to access this website and it saves most TorqueCars readers $100's each year - but we are NON PROFIT and not even covering our costs. To keep us running PLEASE Donate here
If you liked this page please share it with your friends, drop a link to it in your favourite forum or use the bookmarking options to save it to your social media profile.
Feedback - What do You Think?
Please use our forums if you wish to ask a tuning question, and please note we do not sell parts or services, we are just an online magazine.
Help us improve, leave a suggestion or tip
Please watch this video and subscribe to my YouTube channel.