Audi Q8 Tuning
"Thank you for reading my Audi Q8 tuning guide."
The Q8 is a flagship crossover SUV designed in the coupe form, and is one of the finest in its class in our view. It was also no slacker, with the least powerful diesel engine reaching 60mph in little over seven seconds! This time was reduced to less than six seconds using the petrol engine.
There were two 3.0 litre engines available, both of which were V8 configurations. A petrol engine with a contemporary dual scroll turbo in the shape of the FSi. The diesel engine was available in two power levels: the 45TDI produced 228bhp and the 50TDi produced 282bhp.
While the diesels provide planet-stopping torque, a simple remap may result in enormous power improvements, entirely changing the Q8.
The Q8 is an excellent tuning project. We see do-it-yourself mechanics squander money on their Q8 by doing incorrect upgrades and then having to start again. Adhere to our suggestions to prevent wreaking havoc on your vehicle.
With our emphasis now focused on the engine, we need to extract a little more power from the top end.
Enjoy your Q8 to the fullest with our excellent performance tuning guidance – make the correct modifications in the proper sequence.
Unfortunately, with lesser engine sizes, you are wasting your time and money on modifications; thus, if this is the case for you, invest in an engine swap and then do the following changes.
Engine Tuning.
These are the upgraded changes that our members often install; before you begin, consider how far you want to go in your Q8 tuning endeavours.
Obtaining the proper motorsport components for your intended use of the vehicle is critical. Stage 3 motorsport components just do not operate well on a route that is tough to navigate in stop-and-go traffic.
Please watch TorqueCars Video tutorial on car tuning. And be sure to subscribe and support our new channel.
Guide to the Best Tuning Mods & Upgrades
Mods that Remove a Restriction

If the intake or exhaust are restricted in any way this will have an impact on your cars performance, so use an induction kit/filter upgrade and better flowing exhaust whenever your tuning creates a flow restriction.

Mods that Improve Handling

Braking, Suspension and general alignment of the suspension components is vital for any tuning project even before you start increasing power.

Fit Stronger Parts

Tuned cars will show up weaknesses, typically in the turbochargers, clutch and internal engine components. Whilst most engines can cope with mild tuning mods, TorqueCars recommend that you upgrade the internal components before these weak spots manifest themselves.

ECU Tunes & Remapping

While some cars can be easily remapped, others may require piggyback ECU's or aftermarket ECU's but this is the most vital step of your tuning project as it fully releases the power from all of your mods and upgrades. Expect 10-20% on NASP engines and 30-40% on turbocharged units.

More Power Needs More Fuel & Air

Every tuning project will aim to increase the air supply, but fuel supply is just as vital and will need to match the air the engine can utilise. Fuel to Air ratio is vital so upgrade the fuel pump & injectors. Also you can look to perform head mods (flowing and porting), bigger valves, fast road cams and forced induction upgrades to improve fuel.
Stages of Tune
Stage 1 mods: Lighter flywheel, Remap, Alloy wheels, Panel air filter, Suspension upgrade (drop 30-40mm), Sports exhaust.
Stage 2 mods: high flow fuel injector, Ported and polished head, fuel pump upgrades, Fast road cam, Power/Sport clutch.
Stage 3 mods: Adding or upgrading forced induction (turbo/supercharger), Engine balancing, Competition cam, Sports gearbox, Internal engine upgrades (pistons/head/valves).
While peak power is desirable for race vehicles, a daily driver's automobile requires a broad torque band and maybe an extended rpm range. The Q8 is built to effortlessly traverse long stretches of highway, and your tune should mirror this original aim.
Our instructions are intended to provide a brief overview of customising upgrades and to guide you in the right direction; our forum is the ideal place to go for more extensive guidance and tips on your vehicle tuning project, the best upgraded modifications, and all other areas of car modding.
Fast road cams give the most value for money in terms of bolt-on performance components for a NASP engine, however there are other profiles to select from, and we would advise against an aggressive cam profile, since these V6 engines are not especially rev happy (compared to the smaller inline engines in the Audi lineup).
Q8 Intake and Exhaust Mods
The intake and exhaust flow have a significant effect on your car's power range, but be cautious; getting this incorrect might mess up the idling and make driving in traffic difficult. For the greatest performance increases, you'd need to follow a camshaft upgrade with additional tweaks and end with a performance chip.
When increasing the power, you must also increase the fueling. Increased power necessitates increased fuel consumption.
If you have flat spots and power surges after upgrading your components, you should examine your fueling system and experiment with a higher octane gasoline as well. Additionally, upgrading the injectors is a helpful adjustment that will ensure adequate fuel delivery.
Because a fuel pump has a restricted capacity, you may need to increase it if your injectors are requiring more gasoline.
Intake and Exhaust Tuning.
The next area for modification is the intake and exhaust.
Please keep in mind that WE DO NOT RECOMMEND INDUCTION KITS until you have thoroughly modified your vehicle and have determined that the stock air intake has become a limitation.
The regular Q8 air box performs well and readily flows enough air to accommodate a 25% power increase.
While induction kits may be effective on turbocharged engines and bigger engines (when coupled with a proper cold air feed or air box), we'd normally suggest sticking with a performance panel air filter made of cotton for Q8 engines.
Sports exhausts boost the engine's gas flow. However, if the exhaust pipe is too big, with a diameter more than 2.5 inches, you will lose a significant amount of flow rate, so sapping power and torque.
Increasing the airflow into each cylinder by allowing the cylinder head gas to flow will aid in increasing the airflow into each cylinder. This is definitely a task for a professional equipped with a flow bench.
When you adjust your Q8, you will notice that the normal clutch begins to whine; thus, you need upgrade the clutch. Turbo engines are just asking to be Remapped.
Most current turbocharged vehicles, even diesels,, will experience significant power boosts, and the mighty Q8 is no exception, making a remap one of the most cost effective and powerful upgrades available.
Typically, the most remarkable power improvements for NASP engines occur when forced induction is added. Superchargers are often simpler to install than turbochargers. Turbos provide boost in direct proportion to engine speed, which may complicate mapping.
However, superchargers provide a boost that is precisely proportionate to engine speed, making them simpler. Adding forced induction often necessitates lowering compression ratio.
Alloy wheel upgrades.
Alloy wheels aid in brake cooling and are often lighter than steel wheels. If you're serious about performance, you'll want to pick your tyres wisely - preferably with a soft compound. Large alloy wheels on the Q8 might degrade performance. If you purchase large alloy wheels, you will alter your final drive ratio.
Although some individuals have larger wheels, we would recommend a maximum rim size of 18 inches. TorqueCars believes that bigger wheels seriously impair the Q8's handling and should be avoided. TorqueCars.com has an updated version of this Audi Q8 Tuning article.
For more information on Tuning your car please join us in our friendly forum where you can discuss Q8 options in more detail with our Q8 owners. It would also be worth reading our unbiased Audi tuning articles to get a full grasp of the benefits and drawbacks of each modification.
We need your help improving this article, so please send us your feedback in the comments box below and pass on any tips, points or facts we have wrong or have not covered.
We really do love seeing our visitors car projects and which mods work best for them, this site is very much a community effort, and we remind our visitors of our non profit non commercial approach to running this site.
Check out my YouTube channel, we're regularly adding new content...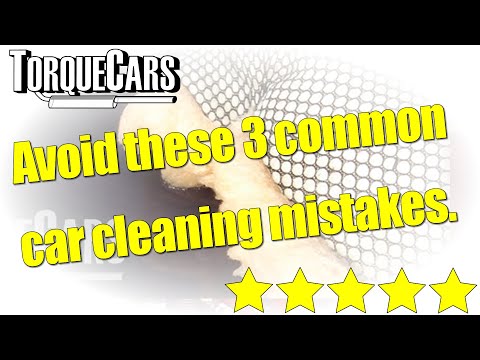 PLEASE HELP: I NEED YOUR DONATIONS TO COVER THE COSTS OF RUNNING THIS SITE AND KEEP IT RUNNING. I do not charge you to access this website and it saves most TorqueCars readers $100's each year - but we are NON PROFIT and not even covering our costs. To keep us running PLEASE Donate here
If you liked this page please share it with your friends, drop a link to it in your favourite forum or use the bookmarking options to save it to your social media profile.
Feedback - What do You Think?
Please use our forums if you wish to ask a tuning question, and please note we do not sell parts or services, we are just an online magazine.
Help us improve, leave a suggestion or tip
Please watch this video and subscribe to my YouTube channel.