Suspension Kits (Koni, Spax, Bilstein etc)
What Does A Suspension Kit Do?
"This article contains affiliate links which will allow us to earn a modest commission, by using these links, when you buy parts, you'll help us fund future content and expansion of our site and there is no additional cost to you."
SEE THE FULL RANGE OF SUSPENSION KITS AT EBAY and support our site.
High-Quality Brands Of Suspension Kits?
The world of suspension kits is crowded with a large number of manufacturers. The ones that are the best in this field (in our opinion) are as follows:
These kits are available not only for American & Japanese cars but the above-mentioned manufacturers also offer great options for various European and Korean performance vehicles, even the budget options will transform the handling on your car to new levels of performance.
Click here to check out high quality suspension kits.
Suspension kits are designed to improve the performance of a vehicle's suspension system. A vehicle's normal suspension performs the following functions:
Provides comfort to passengers by offering cushioning from the road bumps;
Enables the drivers to steer the vehicle easily and effectively with maximum grip.
Suspension kits improve a specific aspect of the vehicle handling dynamics
Increasing stability and keeps tyres in contact with the road
Allowing the driver to corner at high speeds.
Suspension kits are normally comprised of sway bars, springs and shock absorbers.
Watch our video on improving your cars handling on our YouTube channel.
What Are Lift Kits?
Lift kits are in high demand because they allow vehicle owners to adjust the height of their vehicles.
Why Is Lowering Or Raising Ride Height Important?
Lowering the vehicle's height reduces wind resistance significantly, whereas raising the vehicle's height allows the installation of larger wheels, which can be more useful in off-roading scenarios.
It also lowers a cars centre of gravity and gives more control over the amount of body roll, and the angle of the tyres to the road during cornering.
Types Of Vehicle Suspensions
Knowing what type of suspension your vehicle has is important because you can only install the proper suspension kit if you know what type of suspension your vehicle already has. There are two types of suspensions which are:
Dependent Suspension;
Independent Suspension.
The working principle of both the above-mentioned suspension kits is different from each other so let's take a look at each of them and discuss their specifics.
Dependent Suspension
In a dependent suspension, the two tyres are connected by a rigid linkage, so any force acting on one wheel automatically affects the other.
This is a flawed system because if a tyre passes over a bump, the vehicle's other side will also be jolted.
Independent Suspension
The independent suspension, on the other hand, is more advanced because in this type of system, only the wheel to which the external force is applied is affected, while the rest of the wheels continue to function normally.
Suspension Designs
In addition to knowing the type of suspension that your vehicle has, it is also vital to know the design of your vehicle's suspension.
You are for practical reasons restricted to the design that came with your car, but for the more adventurous out there it is possible to change the suspension design between those shown below.
Depending upon the usage of the vehicle, the suspension can be of one of the following different designs:
Wishbone Suspension;
Pushrod Suspension;
Leaf Spring Suspension;
MacPherson Strut Suspension.
What To Look For When Buying Suspension Kits?
The fitting of an aftermarket suspension kit can be a difficult choice to make, mainly because of the large number of options that exist in the market.
However, here is a list of everything you should look out for when buying a suspension kit.
High-Quality Components
This one goes without saying. As suspension plays such a vital role in everyday driving, getting the best parts is essential for an extremely comfortable ride. Thus whenever you can, choose high-quality parts.
Vehicle Specific Parts
We all know that not every part fits every vehicle. This is why it is vital to choose the parts that are specifically designed for your car.
Aftersales Customer Support
Most companies are interested in just selling off their products and don't bother much about the aftersales customer support.
Choose kits from brands that offer great support so in case you need to contact the manufacturer, you can do so with ease.
Warranty
Warranty is another great factor while deciding which suspension kit you should choose.
This is important because suspension kits can be quite costly and thus an aftersales warranty can come in handy for saving you from the extra costs.
How Hard Is It To Fit Suspension Kit?
Suspension is one of the most fundamental parts of the whole vehicle and thus a suspension kit is something you shouldn't try to fit at home.
Rather, just heading over to the local mechanic won't be enough. You must research your car and see if your mechanic has the expertise of fitting the new suspension kit in it as some kits require more specialist knowledge to get the most out of it.
As the suspension kits consist of a large number of parts that even vary in size, knowing exactly what each part is and what it does is the key to a successful suspension fitting process. For example failing to renew worn bushings or check alignment after fitting could result in impaired handling and poor tyre wear.
Normally experts and mechanics deal with such parts regularly so most will be able to fit a "straight swap" kit designed for your car.
How Would I Rate Its Difficulty Level?
Fitting a suspension kit is easily an 8 out of 10 experience in terms of difficulty, so I believe proper care should be taken throughout the process.
This is extremely crucial because the consequences of an unprofessionally performed process can be disastrous.
Thy key is setting the ride height and securing the suspension and setting it up, failing to do this negates the benefits you'll get from it and you will need to check the alignment of the wheels.
What Are The Benefits Of Fitting Better Quality Suspension Kits?
It is important to get a high-quality suspension kit because suspension kits have a lot to handle, such as cornering, diving forwards during braking, and squatting backwards during acceleration.
These suspension kits not only provide a buffer between the driver and the tarmac for a smoother ride, but they also provide better handling, depending on the special requirements for which the suspension kit was installed.
What Would You Need For The Process
In case you decide to change the suspension kit of your car all by yourself, be sure that you have all the necessary tools to do so.
If you are performing the process on a relatively old car, different tools and products that can come in handy while fitting the suspension kit of your car include the following:
Rust Reform & Seal;
Torque Wrench;
Impact Gun;
Ball Joint Press;
Bearing Press;
Grease Gun;
Chassis Grease;
Silicone Paste.
You may not need all of them, but knowing what can be helpful before getting your hands on the project is always a good idea.
SEE THE FULL RANGE OF SUSPENSION KITS AT EBAY and support our site.
Check out my YouTube channel, we're regularly adding new content...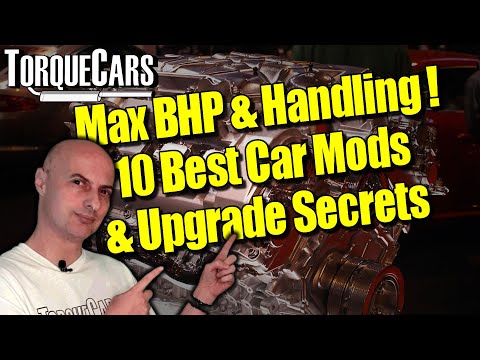 PLEASE HELP: I NEED YOUR DONATIONS TO COVER THE COSTS OF RUNNING THIS SITE AND KEEP IT RUNNING. I do not charge you to access this website and it saves most TorqueCars readers $100's each year - but we are NON PROFIT and not even covering our costs. To keep us running PLEASE Donate here
If you liked this page please share it with your friends, drop a link to it in your favourite forum or use the bookmarking options to save it to your social media profile.
Feedback - What do You Think?
Please use our forums if you wish to ask a tuning question, and please note we do not sell parts or services, we are just an online magazine.
Help us improve, leave a suggestion or tip
Please watch this video and subscribe to my YouTube channel.