Supercharger Kits
"This article contains affiliate links which will allow us to earn a modest commission, by using these links, when you buy parts, you'll help us fund future content and expansion of our site and there is no additional cost to you."  Our ebay link to buy superchargers.
What Does A Supercharger Kit Do?
A supercharger kit is a type of air pump that boosts a vehicle's performance by increasing the combustion rate due to the increased oxygen provided by compressed air.
How Does It Work?
A supercharger offers forced induction and as there are different types of superchargers, the working principle varies from one type to another.
However, the general principle of operation is the same. Superchargers gulp in the fresh air and compress it or at the very least just push air into the engine at a faster rate.
This compressed air is then fed to the engine which means that the oxygen-enriched air leads to a more saturated air & fuel mixture.
Due to this higher saturation of oxygen,  you can use more fuel and this results in more power from the combustion which allows the engine to generate more power and torque.
What To Look For When Buying A Supercharger Kit?
Here are some of the factors that you need to keep in mind while buying a supercharger kit:
Types Of Superchargers
Choosing the type of supercharger is your first and foremost determination as this sets the direction in which you should proceed as they offer different benefits and power profiles.
Superchargers are of three different types which are:
Centrifugal;
Roots-Type;
Twin Screw.
As all superchargers have different mechanisms of operation, your requirements specify which one you should get.
Which Is Best For You?
If you are looking for a fixed amount of air to be displaced with every revolution, you need to choose a positive displacement supercharger like the Roots-Type or the Twin Screw.
In contrast to this and similar to a turbocharger, a centrifugal supercharger displaces a variable amount of air with every revolution.
RPMs
Centrifugal superchargers take time to spool, just like a turbo, which is why they are not very responsive at low RPMs.
The Twin-screw superchargers provide a consistent boost regardless of the RPMs, so while choosing your supercharger kit, keep in mind the RPM at which you want the performance.
Boost
Because many people want a higher boost figure from their superchargers, the superchargers must displace more air to achieve this, which is accomplished by increasing the number of revolutions per minute.
Size Of The Pulley
Changing the size of the upper pulley of a supercharger is an effective way of increasing the boost.
A smaller sized upper pulley needs fewer revolutions of the crank for getting higher revolutions for the supercharger.
The size of the pulleys are usually in percentages but what does it mean? By a 17% pulley, it is meant that the size of the upper pulley in the supercharger is 17% lesser than the OEM part.
Size Of The Crankshaft
Increasing the size of the crankshaft is another way of increasing the boost but this is not a commonly used method.
Which Are The Best Supercharger Kit Brands?
Some of the best supercharger kit brands currently existing in the market include but are not limited to:
Supercharger kits are expensive and thus they necessitate getting them from a source that you can trust. So please check your suppliers reputation and if you need support and guidance choose one that provides a good aftersales support.
You get what you pay for, and it really makes sense to get a quality supercharger kit for your car.
Furthermore, in this case, it is important to get the best price for these products and you can check out the best collection of supercharger kits here.
How Hard Is It To Install Supercharger Kit?
Installing a supercharger kit is not a very complicated process mainly because high-end manufacturers include all sorts of information in the packaging. But things get far more complicated if you build your own kit and will need to research mapping fuelling and all the other requirements.
A reasonably competent DIY'er  can easily perform all of the steps required in the process with a little research, or you can seek assistance from a large number of videos available on the internet.
Most people nowadays tackle fixing a supercharger kit as a do-it-yourself project and succeed with little supervision (providing the kit is well thought out and is complete).
However, I recommend doing it on your own only if you have a basic understanding of how this stuff works as well as your vehicle's engine it will require some ingenuity and in some cases you may need to alter the cars bodywork to accommodate the charger.
Fitting a part at the wrong spot can not only damage it but also compromise the whole project. Vibrations can cause problems if the supercharger kit is not correctly and securely mounted.
I would rate it as a 7 out of 10 process in terms of difficulty mainly because the process is relatively time taking and has the potential of going wrong at any stage which makes it a high-risk project with a hefty price tag to accompany.
What Are The Benefits Of Fitting A Better Quality Supercharger Kit?
Higher quality supercharger kits are not only more durable but also show better performance. They also have less mechanical noise than a lower quality kit. The distinctive high pitched whine is quite annoying on cheap supercharger kits.
Another factor that sets such quality supercharger kits apart from the crowd is that they are lighter in weight and are compact.
They also don't jam at high speeds which is a major problem associated with relatively lower quality supercharger kits.
What To Do Alongside Installing A Supercharger Kit?
As already mentioned above, a supercharger kit increases the supply of air to the car's engine and thus increases combustion.
Watch our video on choosing forced induction upgrades on our YouTube channel. Which covers the main principles involved in such a project.
Watch out for detonation and pre ignition
This is the biggest risks and it can be mitigated by running a lower level of boost or fitting lower compression pistons to your engine. Much depends on the engines design and if it uses direct injection you will have an advantage here.
Bigger Fuel Pump & New Fuel Injectors
However, for the engine to function properly and deliver higher performance figures, the amount of fuel required by the engine increases as well.
This necessitates the use of a bigger fuel pump and new fuel injectors that spray more fuel.
In the absence of the enhanced fuel quantity, the engine won't be able to perform optimally.
Performance Exhaust
Because the increased combustion requires the expulsion of more hot air, installing a supercharger kit is commonly combined with the installation of an aftermarket performance exhaust.
Tuning
Tuning is another major step that can play a decisive role in determining how the overall setup works.
So, in simple words, fitting a supercharger kit is a multifaceted process that requires several other performance parts which can cost a lot of money.
Please support us and use our ebay link to buy superchargers.
Check out my YouTube channel, we're regularly adding new content...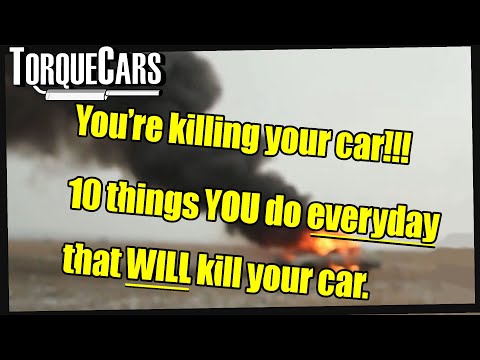 PLEASE HELP: I NEED YOUR DONATIONS TO COVER THE COSTS OF RUNNING THIS SITE AND KEEP IT RUNNING. I do not charge you to access this website and it saves most TorqueCars readers $100's each year - but we are NON PROFIT and not even covering our costs. To keep us running PLEASE Donate here
If you liked this page please share it with your friends, drop a link to it in your favourite forum or use the bookmarking options to save it to your social media profile.
Feedback - What do You Think?
Please use our forums if you wish to ask a tuning question, and please note we do not sell parts or services, we are just an online magazine.
Help us improve, leave a suggestion or tip
Please watch this video and subscribe to my YouTube channel.