Re-upholster a car's interior.

"A totaly new look for your car interior."

Manufacturers go with safe boring materials and colours on a car interior but why should you settle for that?
Members in the TorqueCars forum have carried out just about every conceivable type of interior styling upgrade you can imagine.
Some use custom parts off the shelf and others have created their own bespoke interiors from scratch.
Most cars come with boring grey and black interiors, thankfully some makers are catering for younger drivers with youth oriented models with bright colours and funky designs but they are still on the minority.
Your car interior should reflect your personality and suit your lifestyle - with so many options there should be nothing holding you back.
Your car interior is designed to last for ten to twenty yearsand fashions and styles come and go, so please apply some taste to your project. It doesn't take long for an interior to show wear but when it does this could be a good queue to reupholster it and get creative.
A trip to your local fabric shop can offer some inspiration and show you the potential wide range of fabrics on offer.
Aftermarket car seat upgrades.

There are loads of options around when it comes to front seats but you can't usually find matching rears. An option you have is to recover your old rear seats to match the new front ones, or just recover all the seats so you are sure of a match.
WARNING: Be careful when it comes to airbags as many modern cars have seats that contain airbags, an essential safety feature.
Removing airbags has a risk attached to it, set one off accidentally and you'll see what we mean, plus accident protection will be compromised.
Going to your local breakers yard or salvage agent is worth doing as you can often find a complete leather or sports interior from a higher spec model of your car.
Then using these salvaged seats to work on you get them reupholstered without taking your car out of action whilst the work is done. When you have swapped them in you have the option of selling your old seats to someone else.
Re-upholstering car seats.

A DIY job is possible but to get the best finish you are best employing an expert who can do the job more quickly and to a higher standard of finish. It's amazing what the right tools and a bit of experience does for a job like this.
When selecting a fabric make sure it is hard wearing. For many leather is the material of choice.
Leather repels most stains from liquids, is relatively easy to clean and can be stretched to fit which creates a nice finish. Other fabric choices should include Alcantara, heavy cotton and synthetic fibers.
(Fur seats can look nice but that is very much subject to personal taste and what sort of car you have!)
Ensure that you get the seams double stitched as they take a lot of abuse, especially the corners where people get in and out of the car - it would be a real shame if the car is spoiled with frayed or split seams.
Complete car interior make over including door cards.

Remove the door furniture catches, switches, speaker covers and handles.
The door cards are generally pushed on with studs and these often get warped as they are removed so TorqueCars recommend you get a set of spare retaining studs and swap out any which have become damaged.
This is also a good opportunity to upgrade the speakers in your car blending them in with the new look.
Sometimes less is more and adding a small coloured panel can radically transform your car's look. Carbon fibre, steel, brushed aluminium and bright plastic panels have all been used to great effect.
To see what a car will look like you could take a photo of your interior car and in Photoshop or (Gimp which is free or Corel) another image editing package play around with colours until you feel you have got them right, then ask your friends and family for their opinions before you even start work on the car.
Navy and Yellow, Black and Orange and Black and green are good contrasts which create a striking look when done properly.
Your new fabric trim can usually just be stretched over the door card and glued or stapled to the rear, then you can add the holes for the door fittings.
We also recommend you affix the fabric to the door card with a heavy duty carpet tape spread liberally over the backing surface. This avoids stretching and warping as the fabric ages and wears.
(When using adhesive make sure it does not ooze through the fabric as this can make the fabric hard and scratchy to the touch - with most fabric glues you need to allow them to dry and form a tacky skin before you apply the fabric.)
Applying the finishing touches

All of your dash board functions, dials, gear knob and hand brake can all be upgraded and made to blend in with the rest of your chosen look. Some companies offer a computer screen to replace the common dials but there are plenty of aftermarket dials and gauges on offer.
Some suppliers are starting to offer aftermarket trim parts including stick on trim surrounds in wood, leather, Aluminium, brushed steel, carbon fibre and a wide variety of custom colours and finishes all tailored to fit your vehicle. The better quality ones work really well and are a simple way of upgrading the look of your car.
Check out my YouTube channel, we're regularly adding new content...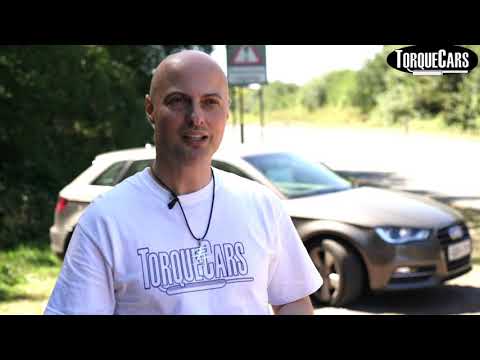 PLEASE HELP: I NEED YOUR DONATIONS TO COVER THE COSTS OF RUNNING THIS SITE AND KEEP IT RUNNING. I do not charge you to access this website and it saves most TorqueCars readers $100's each year - but we are NON PROFIT and not even covering our costs. To keep us running PLEASE Donate here
If you liked this page please share it with your friends, drop a link to it in your favourite forum or use the bookmarking options to save it to your social media profile.
Feedback - What do You Think?
Please use our forums if you wish to ask a tuning question, and please note we do not sell parts or services, we are just an online magazine.
Help us improve, leave a suggestion or tip
Please watch this video and subscribe to my YouTube channel.