Tuning the Popular BMW 3 Series.
"BMW 3 series tuning."
The BMW 3 series was first launched in 1975 with the E21, however it was not until 1982 the 3 series became a success with the E30.
In particular the Ultimate Driving Machine really kicked things off in 1985 with the E30 M3 which was produced as a race car for the road.
This was because BMW wanted to compete in touring car racing.
After this success, 3 more successful generations have followed.
BMWs naturally have very good suspension, especially thanks to the 50:50 weight distribution found throughout the range.
But any suspension setup can be improved upon. A good start to a suspension overhaul would be to install a set of adjustable coil overs. These are available in many varieties from eBay specials to high end track setups.
When installing coil overs, be sure to go for some adjustable top mounts as well. This will help you gain camber and castor. Generally the lower the better, however some models require a sump guard if you intend to go extremely low. If ride comfort is paramount to your everyday journey then we recommend you go for a set of lowering springs instead as a coil over setup can be quite stiff.
BMW 3 Series Tuning
You will find that older BMWs need more work to get the most of out of them as parts have endured more wear and tear due to their life span. In particular pay attention to the bushes. The better the bushes, the stiffer the ride will be. Powerflex provide a great range of polyurethane bushes (poly bushes) for all BMWs that will stiffen up the ride and help handling.
Anti-roll bars are also a great way of improving how the car handles as chassis roll is reduced through hard cornering. Adjust able setups are available and are very useful if the car is used both on the road and on the track. Strut braces are an easy modification that helps reduce chassis flex. Front and rear strut braces will ensure the car stays stable at top speed.
An important part of any project is making the sure the car stops. Luckily BMWs allow you to swap parts from other BMWs to create a bigger, better setup. An example of this is an E46 330i brakes being applied to an E36. Just make sure the correct master cylinder and servo are used otherwise the middle pedal won't do anything! If you want serious brakes though, many setups are available.
Grooved and drilled discs are a good idea to stop brake fade and allow up rated cooling. These characteristics are key to track cars, but may be too much for a daily drive car as brakes may not reach optimum temperature quick enough. Brake pads are also important and should be chosen wisely depending on what the car is used for.
Using a pad designed for track use may not be best for road use and visa-versa. A simple but effective way to improve braking is to install a set of stainless steel brake lines. These reduce any flex in the lines and don't corrode like OEM ones do. This will improve the feel of the brakes in any setup.
Now we come to the exciting part of any BMW 3 Series project, more power! Exhaust systems are an effective way of increasing throttle response and adding a few extra horses. Pipe diameter is the key element in choosing your exhaust system. The right size for an M3 will no doubt be too big for a smaller powered version.
For example, the optimum exhaust size for a 318is is 2.25 inches, but the M3 uses a 3 inch diameter. This is to achieve the best flow rate vs back pressure. Induction kits can achieve good power gains across the range, but be sure to use a heat shield around enclosed filter as heat soak mean a loss in power.
However, smaller engines can achieve similar gains with just a panel filter. Throttle bodies are also an important part of adding power to your 3 Series.
Big bore throttle bodies (BBTBs) or individual throttle bodies (ITBs) help deliver more power and a better throttle response to your BMW. Once you've finished with your power modifications then make sure to take advantage by getting a remap done.
This will ensure that there no flat spots meaning drivability is at it's best and power is increased further. Don't be put off if you have a smaller engined BMW, as good gains are available for most engines, especially diesels. If that isn't enough for you then a turbo or supercharger may be the route to take.
Styling is possibly the most enjoyable part of a 3 Series project. There are so many parts to choose from you will spend hours looking and planning. Non-Mtec models may benefit from an Mtec conversion and Mtec models may be inspired by many aftermarket manufacturers such as Hartge, Alpina and AC Schnitzer.
The biggest choice you will make during your 3 Series project is what wheels to go for. TorqueCars recommends going for lightweight wheels to maximise performance. This means avoiding replica wheels as they are usually heavier than standard wheels.
A common wheel choice is to put 5 Series rims onto a 3 Series. If you choose this route then make sure a spigot ring is used to reduce centre bore size. Otherwise you will endure wheel wobble.
To ensure you choose a good base for your project be sure to check the rear arches for rust as replacements will be expensive.
Other areas to check are the wiring contained within the boot harness as wear and tear can cause electrical problems, the Nikasil issue found with Nickel lined alloy blocks, exhaust manifolds and if equipped, VANOS.
If you would like to know more or have any specific questions then please ask in the forum. Written by Matt Ayling (a.k.a. forum member Prince)
Check out my YouTube channel, we're regularly adding new content...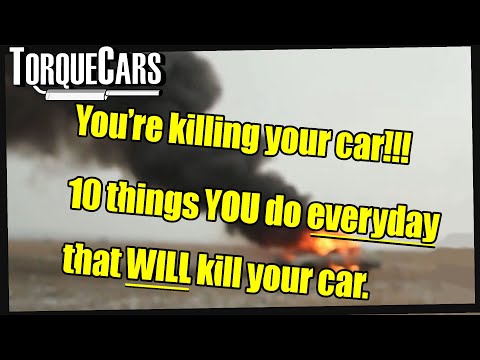 PLEASE HELP: I NEED YOUR DONATIONS TO COVER THE COSTS OF RUNNING THIS SITE AND KEEP IT RUNNING. I do not charge you to access this website and it saves most TorqueCars readers $100's each year - but we are NON PROFIT and not even covering our costs. To keep us running PLEASE Donate here
If you liked this page please share it with your friends, drop a link to it in your favourite forum or use the bookmarking options to save it to your social media profile.
Feedback - What do You Think?
Please use our forums if you wish to ask a tuning question, and please note we do not sell parts or services, we are just an online magazine.
Help us improve, leave a suggestion or tip
Please watch this video and subscribe to my YouTube channel.