Making a 10 second car

"10 seconds is all it takes"
Most people that get into car tuning set the target of building a 10 second car.
Drag cars and street racing movies seem to portray 10 seconds as the ultimate aim.
In reality we see people shaving a lot off this time but 10 seconds seems to be a reasonable aim for someone serious about car tuning but not prepared to go fully professional and without very deep pockets. It is also enough to place you in a rather exclusive club of road legal cars.
So what exactly is a 10 second car? It is a car that covers a quarter mile drag race in 10 seconds or less.
What does it take to build a 10 second car? There are a lot of factors at play here beyond the car itself when you are on the drag strip. Driver skill plays a large part as gear changes at critical change points need to be made to keep the car in the power band. So the driver skill can take around a second or two, the car does the rest!
You will also as a driver be fighting for traction off the line. Rather than focus on driver skills we will outline the basic requirements and targets you'd need to aim for to achieve this time.
Pure power is always good, one of our mottos is "too much power is almost enough" and this translates well to the drag strip. The key thing is your power to weight ratio. Lighter cars need less power to reach the 10 second goal and heavier cars need a lot more.
What power and weight for a 10 second car?

Now we move on to using a fairly sophisticated simulator where we get to play with a lot more variables and actually get an ET speed as well. There are a few assumptions made and each of these will have a bearing on the results to a larger or lesser degree but the results give us the following numbers.
For a 10 second car we calculate the following:-
650bhp per 1000kg is a good ballpark starting point, increase the weight of the car and you'll need more bhp
750 bhp for 1600kg
430 bhp for 800kg
Check your own theoretical best time using our calculator, based on 10,000 data points. It makes a few assumptions like RWD for powerful cars. Gearing and ambient temperature do not feature either and were fixed for this calculator.
To calculate your own VERY approximate 1/4 mile time enter the hp & weight
Now we have a baseline it's time for some more complex calculations. We ran some figures through more sophisticated and complex simulation software, drank lots of coffee and came back a week later to read the results. (It didn't take a week to calculate, but we were distracted by nice shiny cars and engines!)
So using Car weight at 1200kg and assuming its a RWD model as starting points we fed the following into our simulator.
Assumptions made in this next example calculation are:
50/50 weight distribution
245mm wide rear tyres
25 sq foot frontal area
Drag coefficient of .36
5" ground clearance
Gear ratios of 1.908, 1.525, 1.282, 1.085, 0.922, 0.786
Final drive 3.85
Max BHP at 6250 with gearchange at 6500
Max lb/ft at 5200
Redline 7500
Turbocharged
Runs at 300ft altitude (Santa Pod in the UK) under English weather conditions (dry but humid - yes we know it usually rains but we're trying to bring in the tourists!)
In order to achieve a 10 second 1/4 mile run for this car you will need around 750bhp and 650ft/lbs (ET 10.98 at 137mph). If the car is lighter the power figure is lower and conversely for a heavier car the power requirements will go up. Drop the weight by 240lbs and you'll be hitting a 10.48 second 140mph time.
Going below 10 seconds in this car will need around 1100bhp and 1000lb/ft of power - so quite a big hike.
So weight reduction is probably the cheapest and best option with increasing the power as a secondary consideration. Grip, transmission, clutch and handling characteristics all play a part.
In terms of tuning we would suggest an engine swap, adding forced induction, head work and lowering the compression ratio, balancing & blueprinting,cryo treating the block as well as fitting fast road cams and uprating your fuelling.
Our forum is a great place to chat with our resident petrol heads and drag racers to get some pointers on how to turn your car into a 10 second car.
Check out my YouTube channel, we're regularly adding new content...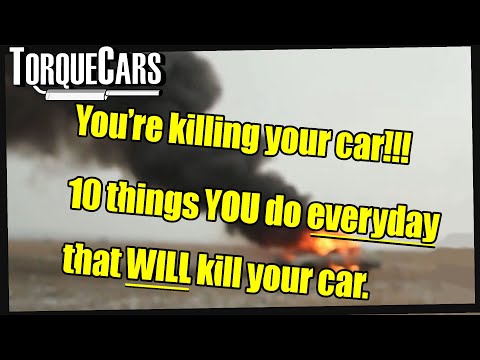 PLEASE HELP: I NEED YOUR DONATIONS TO COVER THE COSTS OF RUNNING THIS SITE AND KEEP IT RUNNING. I do not charge you to access this website and it saves most TorqueCars readers $100's each year - but we are NON PROFIT and not even covering our costs. To keep us running PLEASE Donate here
If you liked this page please share it with your friends, drop a link to it in your favourite forum or use the bookmarking options to save it to your social media profile.
Feedback - What do You Think?
Please use our forums if you wish to ask a tuning question, and please note we do not sell parts or services, we are just an online magazine.
Help us improve, leave a suggestion or tip
Please watch this video and subscribe to my YouTube channel.