Brake Discs (Vented, Grooved & Drilled)
"This article contains affiliate links which will allow us to earn a modest commission, by using these links, when you buy parts, you'll help us fund future content and expansion of our site and there is no additional cost to you."  Our eBay link to buy brake discs
What Do Brake Discs Do?
Brake discs work in unison with callipers and brake pads to stop moving vehicles.
Brake discs are a more advanced technology than drum brakes, and the main advantage of using them over drum brakes is that they dissipate heat much better, since they are not concealed inside a drum, but are constantly cooled by air.
How Do Brake Discs Work?
The brake disc, also known as the brake rotor, is attached to the wheels and exists just next to the calliper, which is the portion of the braking system that pushes the brake pads against the brake disc to cause friction.
The larger the size of the brake discs and callipers, the larger is the area of the braking system that comes into contact with each other, generating more friction and causing the vehicle to stop quickly.
What To Look For When Buying Brake Discs?
When buying brake discs, the size of the disc matters. In addition to just the size, the composition of the discs is also pivotal in determining their quality.
Watch our video on choosing Brake Upgrades on our YouTube channel.
So, while the normal brake discs are made up of semi-metallic & synthetic material, the racing brake discs are composed of sintered steel.
This is mainly because while the normal car's brakes face a temperature of around 200°C, the racing brakes easily get to the 1000°C mark and thus their dynamics of operations change completely.
What Happens If You Put Racing Brake Discs On Your Average Street Car?
As mentioned above, the composition of racing brake discs is much different from those of normal streetcars.
As a result, installing such high-end brakes is mostly pointless because in such cars the temperatures of the braking system are not as high as those in racing cars and the pads need this higher heat to become effective.
The racing brake discs produce a lot of squeaking during normal operation, making them unsuitable for use in such situations.
And after all, why would you want to spend extra money on such parts even when they aren't required and won't perform well in daily driving conditions?
Types Of Disc Brakes
Now that you know what brake discs do and what they are made of, it's vital to discuss the different types of disc brakes that are available in the market.
So, if you are looking for a modification for your braking system, this section is vital for you.
Solid
As the name suggests, this type of disc is made up of a solid block of iron and, being the simplest, are the cheapest to manufacture.
While the performance is adequate, this design isn't great mainly because of its inability to dissipate heat efficiently.
Vented
The vented brake discs have vents that act as channels for air to pass through them.
This is the most common design used in modern cars, and it is so popular because the passing air cools down the discs.
The vents not only improve the performance of the brakes by keeping them cool, but they also extend the life because heat can cause cracking of the metal if it has nowhere to go.
Even in the vented category, brake disc manufacturers incorporate a variety of designs, such as straight or curved channels for air to pass through.
Drilled
Brake pads release gases and different dust particles when they are put under heavy use.
Brake Fade
The mixture of gas and particles adds a layer in between the disc and the pads which often prevents the braking system of the car from working effectively. This process is known as brake fade.
Drilled Brakes Are Effective To Curtail Brake Fade
To minimalize the brake fading issue, and to provide a way for the gases, caused by braking under the pad, to escape, the brake discs are drilled but doing so compromises the structural integrity of the discs and they often crack when put under heavy use.
High-end manufacturers use extra strong materials for making the drilled brakes which keep them safe from cracking.
Over the years, the brake pad technology has seen drastic improvements which have resulted in a considerable reduction in the brake fading process. As a result of this, the need for drilling has been reduced.
However, many high-performance cars still use drilled brakes and these also keep the pads clean and "Sharp"
Grooved/ Slotted Discs
The grooved discs are also effective in dealing with the problem of brake fade. The edge of the grooves add extra friction and thus aid the braking system.
The grooves are available in different designs and sizes depending upon the requirements.
High-Quality Brands Of Brake Discs?
Brake discs or rotors are manufactured by a large number of manufacturers and the following are the industry leaders in this segment:
Brembo alone manufactures more than 50 million brake discs per year. All the above mentioned high-end brands offer a wide array of brake disc options depending upon the make and model of your car.
Click here to check out brake discs from high quality manufacturers at reasonable prices.
How Hard Is It To Fit Brake Discs?
Fitting brake discs is not a super difficult process and thus you can do it on your own.
But one thing to keep in mind is that perfectly aligning the brake disc and brake pads is critical if you don't want irregular wear out of the brake lining.
As a result, I would rate it as a 5 out of 10 projects in terms of difficulty, implying that you can do it yourself and then have it checked for flaws by your local mechanic.
What Are The Benefits Of Fitting Better Quality Brake Discs?
The main benefit of fitting better quality brake discs is that they not only make your vehicle stop at the desired distance but also last longer.
Going for a cheap alternative might not be the best option as while moving, the braking system of your car is the only component that's slowing it down. So, brakes work hard to keep you safe and alive.
Act responsibly & buy only high-end brake discs.
Everything You Should Know When Changing Brake Discs?
While you're at it, check the brake fluid and the condition of the brake pads. This is essential because the brake disc and the pads work in tandem, and if either of them isn't in good shape, the entire system will fail.
Please support our site and use our ebay link to buy brake discs
Check out my YouTube channel, we're regularly adding new content...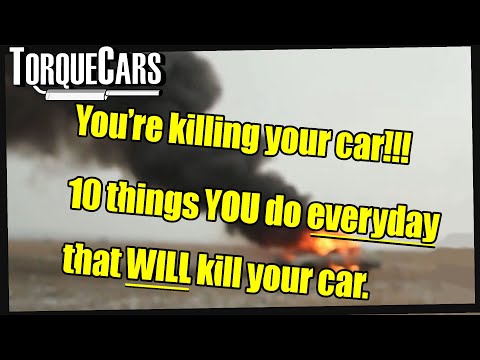 PLEASE HELP: I NEED YOUR DONATIONS TO COVER THE COSTS OF RUNNING THIS SITE AND KEEP IT RUNNING. I do not charge you to access this website and it saves most TorqueCars readers $100's each year - but we are NON PROFIT and not even covering our costs. To keep us running PLEASE Donate here
If you liked this page please share it with your friends, drop a link to it in your favourite forum or use the bookmarking options to save it to your social media profile.
Feedback - What do You Think?
Please use our forums if you wish to ask a tuning question, and please note we do not sell parts or services, we are just an online magazine.
Help us improve, leave a suggestion or tip
Please watch this video and subscribe to my YouTube channel.