Peugeot 108 Tuning
"Thank you for reading this Peugeot 108 tuning guide."
Replacing the very popular 107 the 108 was launched in 2014. There were 2 engine options and both felt quite lively in this small light chassis.
It shared much with the Toyota Aygo and Citroen C1
1.0 L 1KR-FE I3 (KGB40) 68bhp 93 Nm (69 lbf⋅ft) at 3,600 rpm
1.2 L EB2DT I3 (PAB40) 82bhp 130 Nm (96 lbf⋅ft) at 1,750 rpm
It handles quite well, and feels nippy but there are some significant improvements to be had as the 108 was produced to a budget.
The 108 is a good project car to execute. If you do your research then you can create an awesome 108 but don't be fooled there are lots of motorsport inspired mods out there that will simply not suit it read our unbiased guides first.
Our aim in 108 engine tuning should be to increase peak power and Torque at the top end.
Smaller engines do not provide much of a return in terms of power so start with a bigger engine. Engine swaps are a good option if you have a small engine size.
Engine Tuning.
These mods motorsport modifications are usually installed by our members, decide how far you want to push your car before you start.
Getting the correct grade of performance upgrades for your planned usage of the car is vital. Stage 3 motor sport parts just won't work well on the road making the car difficult to drive.
Please watch TorqueCars Video tutorial on car tuning. And be sure to subscribe and support our new channel.
Guide to the Best 108 Tuning Mods & Upgrades
Mods that Remove a Restriction

If the intake or exhaust are restricted in any way this will have an impact on your cars performance, so use an induction kit/filter upgrade and better flowing exhaust whenever your tuning creates a flow restriction.

Mods that Improve Handling

Braking, Suspension and general alignment of the suspension components is vital for any tuning project even before you start increasing power.

Fit Stronger Parts

Tuned cars will show up weaknesses, typically in the turbochargers, clutch and internal engine components. Whilst most engines can cope with mild tuning mods, TorqueCars recommend that you upgrade the internal components before these weak spots manifest themselves.

ECU Tunes & Remapping

While some cars can be easily remapped, others may require piggyback ECU's or aftermarket ECU's but this is the most vital step of your tuning project as it fully releases the power from all of your mods and upgrades. Expect 10-20% on NASP engines and 30-40% on turbocharged units.

More Power Needs More Fuel & Air

Every tuning project will aim to increase the air supply, but fuel supply is just as vital and will need to match the air the engine can utilise. Fuel to Air ratio is vital so upgrade the fuel pump & injectors. Also you can look to perform head mods (flowing and porting), bigger valves, fast road cams and forced induction upgrades to improve fuel.
Tuning Stages
Stage 1 mods: Sports exhaust, Lighter flywheel, Suspension upgrade (drop 30-40mm), Remap, Panel air filter, Alloy wheels.
Stage 2 mods: Ported and polished head, high flow fuel injector, fuel pump upgrades, Power/Sport clutch, Fast road cam.
Stage 3 mods: Adding or upgrading forced induction (turbo/supercharger), Competition cam, Sports gearbox, Internal engine upgrades (pistons/head/valves), Engine balancing.
Your goal when modding the engine should be a nice flat torque range. You don't want all the power to be at the top end of the rev range unless you are creating a motor sport car.
The point of our guides is to give a brief overview of customizing modifications and point you in the right direction, our forum is best place to go if you need more detailed advice and tips on your tuning project, the best motorsport mods and all aspects of modding cars.Fast road cams offer one of the biggest power gains for your money as far as a bolt on performance upgrades goes on a NASP engine.
The exhaust and intake durations play a large part in your cars power band, but be careful here, getting this wrong can upset the idle and make the car hard to drive in traffic. You'd need to follow a camshaft upgrade with other mods and finish with a remap for the best performance gains.
Don't forget to ramp up the fuelling when you are increasing the power - it makes the car more thirsty.
If you find you experience flat spots and power surges after your motorsport upgrades you should check the fuelling and try a higher octane fuel as well. Bigger injectors will enable you to supply sufficient fuel to the engine.
A fuel pump will only deliver a finite amount of fuel, so you may need to uprate this if your injectors are demanding more fuel.
Intake and Exhaust Tuning.
Breathing mods are usually next up. Please note that WE DO NOT FEEL YOU GET POWER GAINS FROM INDUCTION KITS, unless you have tuned your car extensively and are finding that the standard air intake has become limited.
Induction kits can work well on turbo engines and larger engines (if supplied with a suitable cold air feed or air box), generally though we'd just recommend for 108 engines you should just fit a performance panel air filter preferably made from cotton.
Do not go with the largest exhaust you can buy this will slow the exhaust rate - the best exhausts for power gains are usually between 1.5 to 2.5 inches. It is the shape and material more than the bore size.
flowed (porting and polishing) the head will allow you to maximise your air/fuel charge. Leave this to a professional though with a proper flow bench and machine tools Your clutch can lose you loads of power as the power goes up if it starts to slip and the standard clutches are only ever good for power gains of up to 48%. Fit a competition clutch to avoid power loss through the transmission. The best mods that we recommend for your 108 are fast road camshaft, remap, induction and exhaust, suspension.
NASP engines do not achieve big power gains if you remap them, unless you have done extensive modifications. With turbocharged engines this is another story. A remapped turbo will give impressive power gains and take full advantage of the strength of the block.
We've also come across some owners experimenting with twin charging conversions and making some seriously high power gains.
Adding forced induction will see phenomenal power gains but this is usually too expensive to be cost effective. Superchargers are usually easier to add than a turbo. It is difficult to map fuelling with a turbo as the boost comes on exponentially with rpm.
The nice directly proportional boost and rpm characteristics of the supercharger make them simpler to map. Alternatively you could add water injection to cut down knock.
Handling/Suspension upgrades
Many 108 owners uprate the handling of their cars with uprated suspension parts as a priority, this will certainly increase your enjoyment of the car.
Adding a small amount of negative camber on the fronts and around 1 to 1.7 degrees of toe out, will greatly improve your 108 in handling and cornering.
We suggest that you fit modified suspension and lower the car by 26mm - 36 mm. Larger drops require arch work - especially on models already equipped with performance suspension.
Alloy wheel upgrades.
As alloy wheels are lighter they improve performance and they help to cool the brake disks.
Don't forget that your choice of rubber greatly affects your cars grip and handling.
It is not worth compromising performance with cheap tyres when you can buy directional tread pattern performance tires.It is worth noting that although they can look cool on the 108 big alloys will actually decrease your performance. The larger you go the lower your acceleration will be - this to the change in your effective final drive ratio.
Due to this we would advise sticking to a maximum wheel size of 14 inches, although we know some of our members have installed larger rims with no problems.
For example if you decided to fit some 15's you would need to fit wheel spacers of around 10mm and obviously longer wheel nuts on the front wheels to maintain the turning circle and prevent fouling on the bodywork whilst turning.
There is a more updated version of this 108 Tuning article on TorqueCars.com.
For more information on Tuning your car please join us in our friendly forum where you can discuss 108 options in more detail with our 108 owners. It would also be worth reading our unbiased Peugeot tuning articles to get a full grasp of the benefits and drawbacks of each modification.
We need your help improving this article, so please send us your feedback in the comments box below and pass on any tips, points or facts we have wrong or have not covered.
We really do love seeing our visitors car projects and which mods work best for them, this site is very much a community effort, and we remind our visitors of our non profit non commercial approach to running this site. All of your comments are used to improve the accuracy of these articles which are continually revised, tweaked and updated.
Check out my YouTube channel, we're regularly adding new content...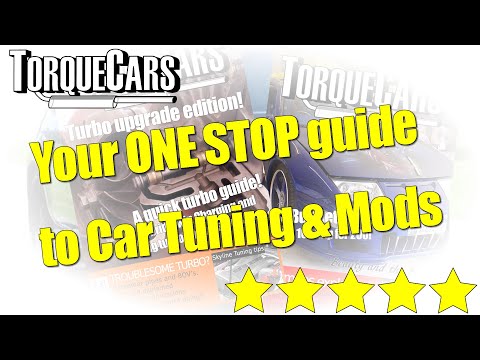 PLEASE HELP: I NEED YOUR DONATIONS TO COVER THE COSTS OF RUNNING THIS SITE AND KEEP IT RUNNING. I do not charge you to access this website and it saves most TorqueCars readers $100's each year - but we are NON PROFIT and not even covering our costs. To keep us running PLEASE Donate here
If you liked this page please share it with your friends, drop a link to it in your favourite forum or use the bookmarking options to save it to your social media profile.
Feedback - What do You Think?
Please use our forums if you wish to ask a tuning question, and please note we do not sell parts or services, we are just an online magazine.
Help us improve, leave a suggestion or tip
Please watch this video and subscribe to my YouTube channel.