Guide to 2.7 V6 TDI 3.0 V6 24v TDI BiTDi tuning and performance parts
"Comprehensive guide to modifying and tuning the EA897 and performance parts on the VAG 2.7 V6 TDI 3.0 V6 24v TDI BiTDi engine!"
Here we detail the best approach to 2.7 V6 TDI 3.0 V6 24v TDI BiTDi tuning and show the optimum modifications.
VAG 2.7 V6 TDI 3.0 V6 24v TDI BiTDi offer good returns when tuned and with a few sensible motorsport modifications like ECU maps, turbo kits and camshafts you will certainly enhance your driving fun.
When talking about the best parts for your 2.7 V6 TDI 3.0 V6 24v TDI BiTDi engine, we are going to focus on the parts that give the best power gain for you spend.
This is a 6 cylinder diesel engine in V configuration. They were released around 2005 and have been revised over the years as emissions regs and market conditions required.
Significant gains on the 2.7 V6 TDI 3.0 V6 24v TDI BiTDi can be made from camshaft upgrades. Altering the camshaft profile alters the intake and exhaust durations on the engine and can dramatically change the power band and power output.
NB: Fast road cams usually bump the performance across the rev band, you could sacrifice a little low down torque but high end rpm power will be better.
Motorsport cams, bump the high end rpm power band but as a result the car will not idle smoothly and low end power nearly always suffers.
A Motorsport and race camshaft is not great in heavy traffic.
You should ideally optimize your torque band to your preferences so for a road car stick with a fast road 2.7 V6 TDI 3.0 V6 24v TDI BiTDi camshaft
Each engine responds better to more or less aggressive cam durations so view each engine as unique.
The ecu map and injectors and fuel pump also have an effect on the power gains you'll achieve.
Extending exhaust or intake durations can alter the power band and on most engines the exhaust and intake durations do not need to match, although most cams and tuners use matched pairs there are some advantages to extending the intake or exhaust durations.
Please watch TorqueCars Video tutorial on car tuning. And be sure to subscribe and support our new channel.
Guide to the Best EA897 Tuning Mods & Upgrades
Mods that Remove a Restriction

If the intake or exhaust are restricted in any way this will have an impact on your cars performance, so use an induction kit/filter upgrade and better flowing exhaust whenever your tuning creates a flow restriction.

Mods that Improve Handling

Braking, Suspension and general alignment of the suspension components is vital for any tuning project even before you start increasing power.

Fit Stronger Parts

Tuned cars will show up weaknesses, typically in the turbochargers, clutch and internal engine components. Whilst most engines can cope with mild tuning mods, TorqueCars recommend that you upgrade the internal components before these weak spots manifest themselves.

ECU Tunes & Remapping

While some cars can be easily remapped, others may require piggyback ECU's or aftermarket ECU's but this is the most vital step of your tuning project as it fully releases the power from all of your mods and upgrades. Expect 10-20% on NASP engines and 30-40% on turbocharged units.

More Power Needs More Fuel & Air

Every tuning project will aim to increase the air supply, but fuel supply is just as vital and will need to match the air the engine can utilise. Fuel to Air ratio is vital so upgrade the fuel pump & injectors. Also you can look to perform head mods (flowing and porting), bigger valves, fast road cams and forced induction upgrades to improve fuel.
Stages of Tune
Stage 1 mods: Sports exhaust manifold, Remaps/piggy back ECU, Drilled & smoothed airbox, Fast road camshaft, Panel air filters, Intake headers.
Stage 2 mods: Ported and polished head, Fast road cam, induction kit, Sports catalyst & performance exhaust, fuel pump upgrades, high flow fuel injectors.
Stage 3 mods: Engine balancing & blueprinting, Adding or Upgrading forced induction (turbo/supercharger), Twin charging conversions, Internal engine upgrades (head flowing porting/bigger valves), Crank and Piston upgrades to alter compression, Competition cam.
Mapping allows a tuner to to establish the full potential of all the mods you've done to your 2.7 V6 TDI 3.0 V6 24v TDI BiTDi.
It will usually give around 30% more power on turbocharged vehicles and you can expect to see around 15% on NASP engines, but the end result usually vary depending on the mods you've done and the condition of your engine.
It is vital to any engine modification project to feed fuel and air into each cylinder
Headers carry the air during the suck phase from the filter and allow it to be drawn into the engine and mixed with fuel.
Design and flow rate of the Intake headers can make a big difference to to fuel delivery on the 2.7 V6 TDI 3.0 V6 24v TDI BiTDi.
Most intake headers are begging for a performance upgrade, although some OEM provide decently flowing intake headers.
Adding a 2.7 V6 TDI 3.0 V6 24v TDI BiTDi larger valve kit, doing some 2.7 V6 TDI 3.0 V6 24v TDI BiTDi port enlargement and head flowing will also lift bhp and torque, and as an added benefit will afford you raising the bhp and torque increase on other parts.
Turbo upgrades
NASP engines need quite a lot of work when you add a turbo, so we have a separate guide to help you take into account the pros and cons of going this route on your 2.7 V6 TDI 3.0 V6 24v TDI BiTDi
Garrett GTD2263VZ
GTB2260VK VW CR240
The more air you can get into an engine, the more fuel it can burn and uprating the induction with a turbocharger upgrade makes impressive power gains.
When the engine has a turbo already fitted parts are simpler to install and you will discover turbo engines are made with harder and stronger components.
There are weak spots for every engine, with some being extremely strong and some only just able to handle stock power
Discover these limits and upgrade to higher quality crank and pistons to handle the power.
It's not unheard of people spending a loads of money on turbocharger upgrades on the 2.7 V6 TDI 3.0 V6 24v TDI BiTDi only to suffer the humiliation of seeing the car throw a rod soon after it's been finished.
Big upgraded turbos tend to experience low end lag, and little turbos spool up much more quickly but don't have the high rpm torque gains.
In the last 10 years the selection of turbochargers is always improving and we commonly find variable vane turbochargers, permitting the vane angle is altered according to speed to lower lag and increase top end torque.
Twin scroll turbochargers divert the exhaust gases into a couple of channels and direct these at differently angled vanes in the turbo charger. They also increase the scavenging effect of the engine.
It is common that there's a limit in the air flow sensor (AFM/MAF/MAP) on the 2.7 V6 TDI 3.0 V6 24v TDI BiTDi when considerably more air is being fed into the engine.
You'll see that 4 bar air sensors coping with quite large power gains, whereas the OEM air sensor was restricting power at a much lower level.
Adding a supercharger or additional turbo will make large performance gains, although harder to get working. We have this guide to twinchargers if you want to read more.
Fuelling upgrades and mods
When you lift the performance you will need to ramp up to the fuel delivery.
More performance needs more fuel. 
Most tuners we speak with say to over specify your injectors flow rate.
The rule of thumb is to add 20% capacity when specifying an injector, this takes into account injector deterioration and allows some spare capacity should the engine require more fuel.
We think this one is common sense, but you'll need to match your fuel injector to the type of fuel your car uses as well.
Exhaust upgrades and mods
Only look to uprate your exhaust if the existing exhaust is actually creating a flow problem.
On most factory exhausts you should find that the exhaust flow rate is good even on modest power gains, but when you start pushing up the power levels you will need to get a better flowing exhaust.
Sports exhausts can usually air flow through the engine but do not go too wide or you could will reduce the flow rate. Stick to 1.5 to 2.5 inches as a rule of thumb.
Usual exhaust restrictions come around the catalyst and filters installed, so adding a higher flowing sports alternative will help avoid this restriction.
Weak spots, Issues & common problem areas on the 2.7 V6 TDI 3.0 V6 24v TDI BiTDi
The EA897 engines, if regularly serviced and maintained, are generally very reliable and have few issues.
Regular oil changes are vital on the EA897, particularly when the engine has been modified and is putting down more power than the manufacturer intended.
History of the EA897 Engine
Audi A4 / Avant
CGKB CAMB -163ps
CGKA CAMA -190ps
BKN -204ps
CCWB -211ps
ASB -232ps
CCWA CCLA -239ps
CAPA -240ps
Audi A4 / S4 / Avant / quattro
CGKB CAMB -163ps
CGKA CAMA -190ps
BKN -204ps
CCWB -211ps
ASB -232ps
CCWA CCLA -239ps
CAPA -240ps
Audi A4 / S4 Cabriolet / quattro
Audi A4 allroad quattro
Audi A5 / S5 Cabriolet
CGKB -163ps
CGKA -190ps
CCWA -239ps
Audi A5 / S5 Coupe Sport
CGKB CAMB -163ps
CGKA CAMA -190ps
CCWB -211ps
CCWA -239ps
CAPA -240ps
Audi A6 / Avant
CAND CANB -163ps
CANC CANA -190ps
CDYB BNG -211ps
BMK -224ps
ASB -232ps
CDYA -239ps
Audi A6 / S6 / Avant / quattro
CAND CANB -163ps
CANC CANA -190ps
CDYB BNG -211ps
BMK -224ps
ASB -232ps
CDYA -239ps
Audi A6 allroad quattro
CAND -163ps
CANC -190ps
CDYB BNG -211ps
ASB -232ps
CDYC CDYA -239ps
Audi A6L
Audi A8
BNG -211ps
ASB -232ps
BMC -320ps
BVN -326ps
CDSB -351ps
CTEC -385ps
Audi A8 / S8 quattro
BNG -211ps
ASB -232ps
BMC -320ps
BVN -326ps
CDSB -351ps
CTEC -385ps
Audi Q5
Audi Q7
CASB BUN -211ps
CATA -224ps
BUG -232ps
CCMA -239ps
CASA -240ps
BTR -326ps
VW Touareg
CASD -204ps
CASB -211ps
BUN -211ps
CATA -224ps
BKS -225ps
CASC -239ps
CASA -240ps
CKDA -340ps
We've tried to include production years and engine codes to help identify your unit. If we've missed anything else PLEASE let us know and we can add it.
2.7 V6 TDI CR 120-140kW
161 bhp  
Audi A4 (BSG: 11/05-06/08, CAM: 11/07-05/08, CGK: 06/08->)
Audi A5 (CAM: 09/07-05/08, CGK: 05/08->)
Audi A6 (BSG: 01/05-10/08, CAN: 10/08->)
177 bhp@3,300-4,250 rpm; 280 lbft@1,400-3,300 rpm
Audi A4 (BPP: 01/06-03/09)
Audi A6 (BPP: 11/04-10/08)
3.0 V6 24v TDI CR 150–195 kW
3.0 V6 24v BiTDI CR 230 kW
308 bhp@3,900 - 4,500 rpm; 479 lbft@1,450 - 2,800 rpm, Audi A6, Audi A7, Audi SQ5 TDI (CVUA: pre-2014)
315 bhp@3,900 - 4,500 rpm; 479 lbft@1,450 - 2,800 rpm, Audi A6, Audi A7 (CVUB: 06/2014->)
322 bhp@4,000 - 4,500 rpm; 479 lbft@1,450 - 2,800 rpm, Audi A6, Audi A7 (CVUC: 06/2016->)
For more information on Tuning your VAG engine please join us in our friendly forum where you can discuss EA897 tuning options in more detail with our EA897 owners. It would also be worth reading our unbiased VAG tuning articles to get a full grasp of the benefits and drawbacks of each modification.
We need your help improving this article, so please send us your feedback in the comments box below and pass on any tips, points or facts we have wrong or have not covered.
We really like hearing from our readers, and hearing about which upgrades were the most effective for them, it helps us improve our recommendations and articles to reflect current trends in modifications and ensures that our guides and tips are kept up to date.
Check out my YouTube channel, we're regularly adding new content...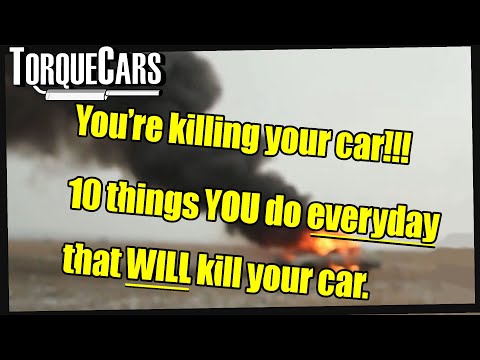 PLEASE HELP: I NEED YOUR DONATIONS TO COVER THE COSTS OF RUNNING THIS SITE AND KEEP IT RUNNING. I do not charge you to access this website and it saves most TorqueCars readers $100's each year - but we are NON PROFIT and not even covering our costs. To keep us running PLEASE Donate here
If you liked this page please share it with your friends, drop a link to it in your favourite forum or use the bookmarking options to save it to your social media profile.
Feedback - What do You Think?
Please use our forums if you wish to ask a tuning question, and please note we do not sell parts or services, we are just an online magazine.
Help us improve, leave a suggestion or tip
Please watch this video and subscribe to my YouTube channel.