Tuning the Audi 1.8T engine.
"Audi make it go so fast?"
VAG 1.8T engine as fitted to Volkswagen/SEAT/Audi cars: 150-240 bhp from the factory.
The 1781 cubic centimetres in this 20 Valve turbo charged engine represents what must be one of the most tunable engines around today and is found in family cars like the A3 and A4 and on sports oriented models like the TT, and the S3.
The fact these engines can be tuned to such extremes indicates the versatility of them. 
The 20 valves are arranged with 3 intake valves and 2 exhaust valves per cylinder.
(The exhaust valves are somewhat larger than the intake and this intake configuration makes the engine an efficient one).
The compression ratio is set to 9.5:1, but,  a slightly lower 9:1:1 in the 240 bhp versions of this engine, which although high for a turbo gives plenty of low down torque.
Technical information of this engine: Bore size of 81mm (3.19in) a Stroke of 86.4mm (3.40in) and a Rod Length of 144mm The peak power band is between 2000 and 5000 rpm, and delivers good fuel economy as well around 34-38mpg.
The turbo delivers a boost pressure of 8.7 psi or .6 bar on most variants of this engine although the 180bhp engines run 11.6 psi from 2002. The standard cast iron engine block is solidly constructed and can handle power levels up to 240bhp in factory tune and many owners have reported much higher power gains than that. The most common turbos fitted are the KO3 & KO3s (150-180 bhp) and KO4 (210-240).
A remap on a standard engine will typically yield around 40-50bhp increase, and, with the addition of a higher capacity turbo, a freer flowing intercooler and efficient induction and exhaust design, power gains to around 300-350bhp are possible. Expect to have to upgrade the clutch when increasing the power of the engine or the clutch life will be dramatically reduced the TT aftermarket clutches are likely to be the best option.
The stronger engines had pistons from forged aluminium Mahle, with fracture split forged steel connecting rods mated to a forged crankshaft which is capable of handling far more that the mild 150bhp tune and retaining reliability. When planning upgrades it is worth finding out if your engine has the forged components already.
The engine code is found at the top part of the engine near the valve cover on the side etched into the head so you might have to clean it off as the stamp often gets covered in grime.
The engine codes are (This list is not exhaustive and covers the most popular engines)
Small Port size head Engine Codes: ADR, AMB, AMU, APT, APU, ARG, ATC, ATW, AWM, AWP, BEA, AWT, ARX, ARZ, AWC,BJX ,BAM, APX, AMK, BVR, AJQ, AJL, APP, BBU, APY, AUQ, BEX, AYP
Large Port size Head Engine Codes: Typically 97-99: AEB, AGU, AFY, AJH 
The following engines were typically fitted with the KO4 turbo as standard and were small port engines: APY, AMK, APX, BAM, BFV
An obvious upgrade path for KO3 turbo owners is to swap in a KO4 turbo. The software takes a lot of getting right for the maximum power gains but interestingly most people report that the KO4 turbo runs fine on the standard manufacturers ECU Map. It is usually easier to remap the standard KO3 engine and set the boost to 1 bar as per a number of aftermarket Audi tuners standard remaps. but the KO4 changes the characteristics of the engine and gives a more rewarding drive pulling hard and when the KO3 starts to run out of steam around 5000 rpm the KO4 still delivers good power so is the logical track day or drag strip turbo.
You may think the KO4 is more prone to lag but this is not the case and both are very similar as far as low down low boost power goes. A number of aftermarket turbos are available which fit the standard down pipe and they can be tailor made to suit your requirements with many drivers looking for a mix of economy below 2500 rpm and massive power gains from 3000 to 5500.
Weak spots - the engine oil used in your Audi must be fully synthetic and changed at the correct service intervals (check your owners manual for details but it is typically a long life Audi service of around 24,000 miles or standard service around 9000 miles. This depends on how the car is driven so if you are are a heavy footed driver or make lots of short journeys on a cold engine the service interval is reduced from these figures).
Use of the wrong type of oil will cause the oil pump to seize causing a catastrophic loss of oil pressure and engine failure and unless you can prove that the correct oil grade was used the warrantee is invalidated. Audi long life oil lasts for up to 24,000 miles but all other synthetics are only recommended for 9000 miles. It seems sensible to change the oil & filter frequently as metal particles can cause damage to the engine as they become suspended in the oil. The engine takes 4.35 litres of fully synthetic 5w-30 oil (Audi long life oil must conform to VW 504 00 or 507 00 (Castrol SLX long life III is the special Audi approved oil).
Some users have reported problems with early coil packs but most of these will have been replaced now and newer coil packs do not seem to have any problems.
Fitting a blow off valve or dump valve can cause problems with the engine management as there is a loss of system pressure. There are now VAG friendly dump valves that also recirculate the lost pressure keeping the ECU happy.
The air flow sensor can become soiled particularly if you use a filter which is impregnated with oil. Take off the air flow sensor and clean with a IPA based solvent if you notice any hesitation or problems that can be assigned to a faulty MAF.
Check out my YouTube channel, we're regularly adding new content...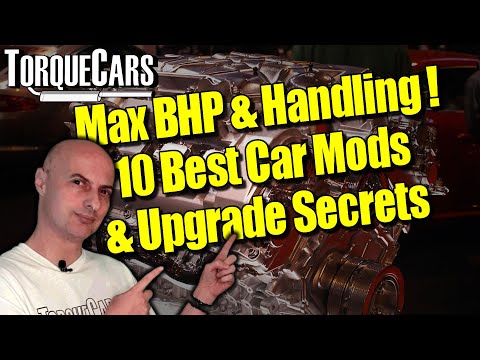 PLEASE HELP: I NEED YOUR DONATIONS TO COVER THE COSTS OF RUNNING THIS SITE AND KEEP IT RUNNING. I do not charge you to access this website and it saves most TorqueCars readers $100's each year - but we are NON PROFIT and not even covering our costs. To keep us running PLEASE Donate here
If you liked this page please share it with your friends, drop a link to it in your favourite forum or use the bookmarking options to save it to your social media profile.
Feedback - What do You Think?
Please use our forums if you wish to ask a tuning question, and please note we do not sell parts or services, we are just an online magazine.
Help us improve, leave a suggestion or tip
Please watch this video and subscribe to my YouTube channel.